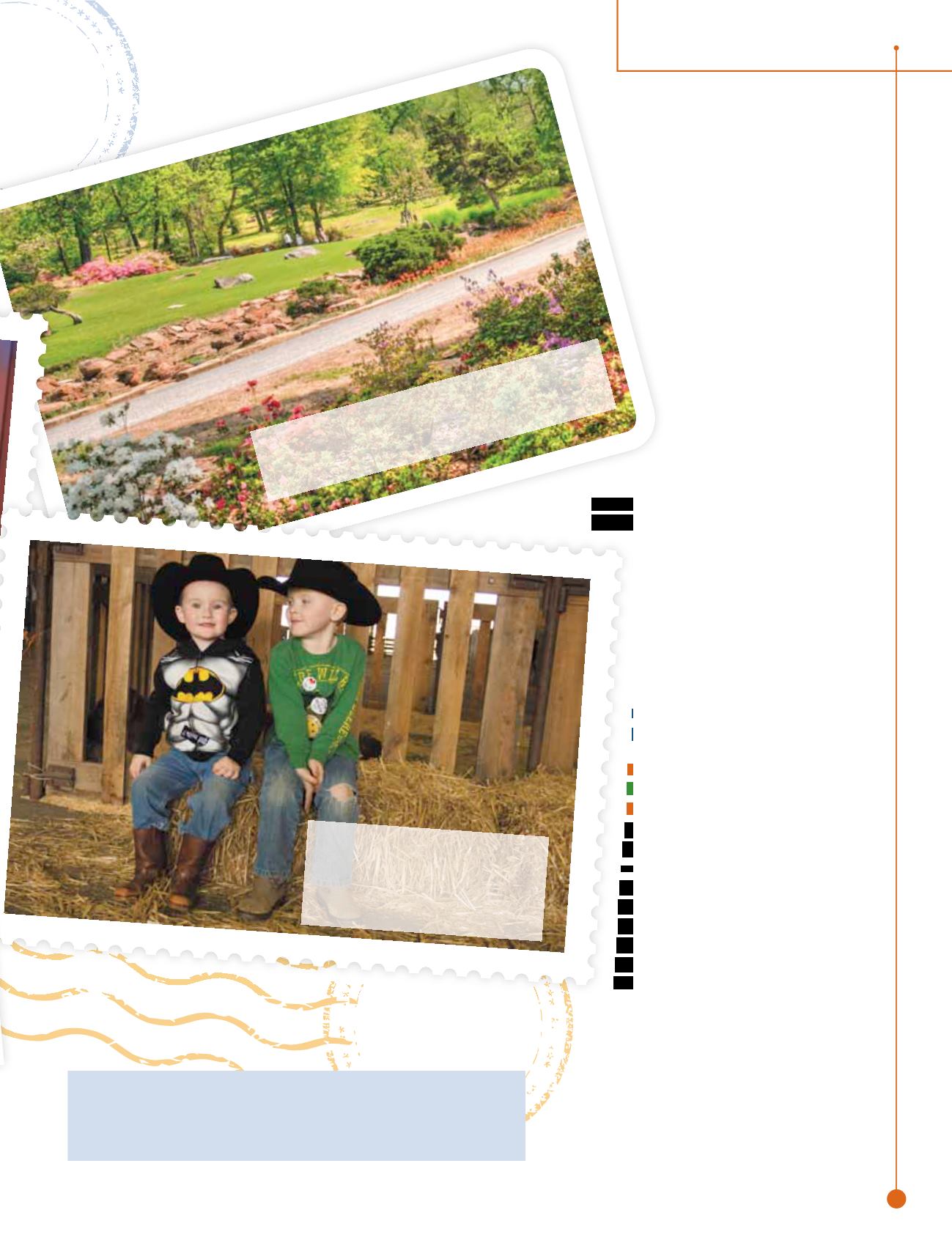 stem
-ic in the Oklahoma community
of Muskogee, about an hour from Tulsa.
A bouquet of events in the Muskogee
visitmuskogee.com
spans the entire month and includes
a lively parade, a chili and barbecue
cook-off, car and craft shows, and the
Flower Power Bike Ride. Activities
take place throughout the city, but
the hub of the festival is Honor
Heights Park, where spring will
be in full glory with showy aza-
leas taking center stage among
the park's landscaped gardens, butterfly
house and arboretum. Just south of the park,
Centennial Trail winds 7.5 miles through the
city, offering access to museums, res-
taurants, shops, and other parks and
open spaces. One of its trailheads is
adjacent to the Oklahoma Music Hall
of Fame, housed in a beautifully reno-
vated historic depot, where live music is
7.5 miles; asphalt, ballast
North Main Street to South
centennial-trail-(ok).aspx
FARM
oh my! Llamas, horses, goats, what fun!
e two-day Oregon Ag Fest (
oragfest.
com
), held every year at the Oregon State
Fairgrounds in Salem, offers a terrific
opportunity for city slickers of all ages to
get a hands-on education in the workings
and importance of farm life. April 25–26,
attendees can meet farm animals, partake
in lasso lessons, race miniature tractors,
explore interactive exhibits on farming
and enjoy pony and wagon rides. More fun
can be had nearby at downtown's mile-long
Riverfront Trail, which offers beautiful views
from an historic railroad bridge over the
Wallace Road to Riverfront Park
traillink.com/trail/riverfront-trail-(or).aspx
Do you have a perfect rail-trail "postcard" for
Greetings From…
? Send a
photo and event information, along with how we can contact you, to:
or Rails-to-Trails Conservancy, Magazine/
Greetings From, 2121 Ward Court, NW, 5th Floor,Washington, DC 20037.
to