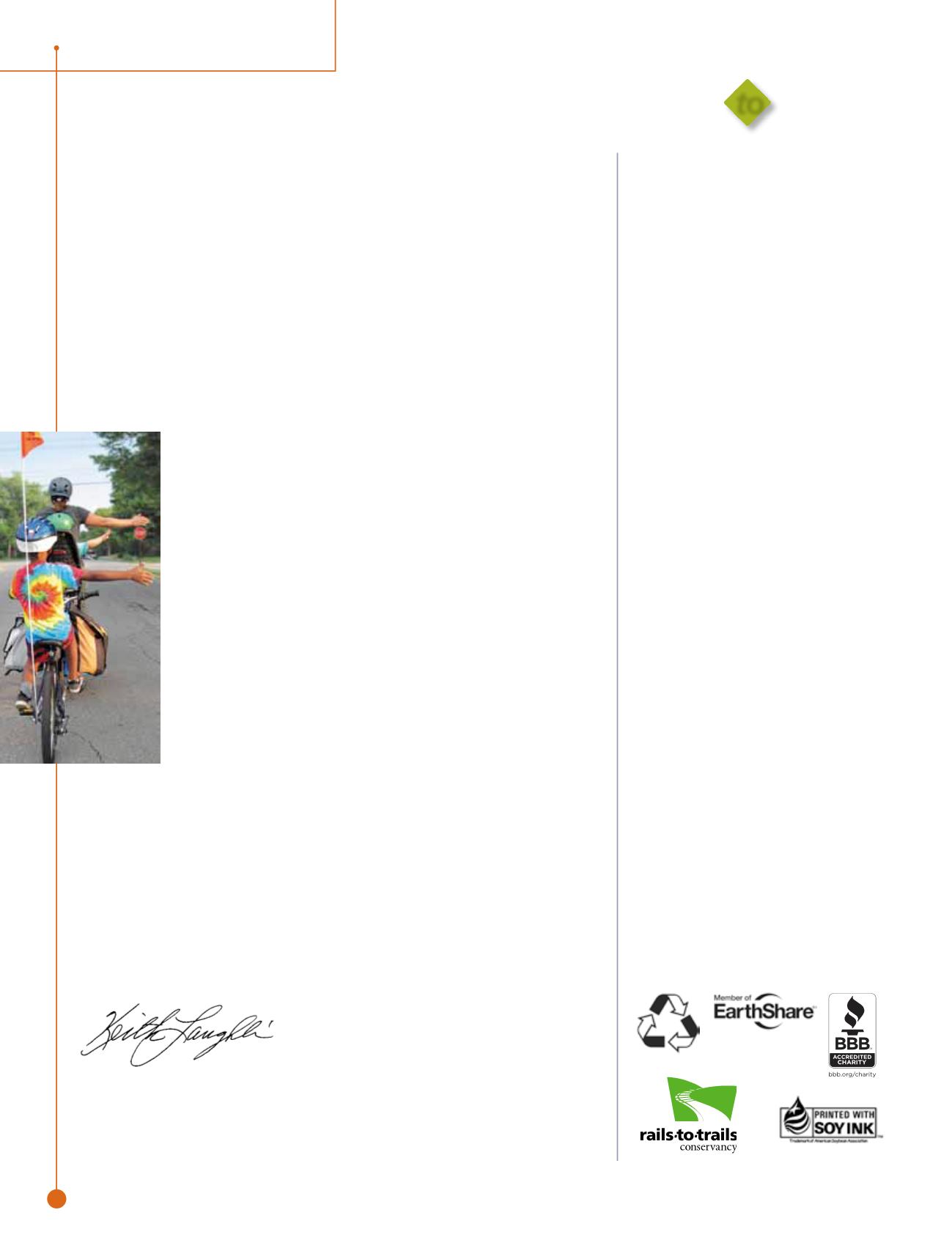 to
t
o
The magazine of Rails-to-Trails Conservancy (RTC),
a nonprofit organization dedicated to creating a nationwide
network of trails from former rail lines and connecting
corridors to build healthier places for healthier people.
Guy O. Williams, Chair; M. Katherine Kraft;
Gail Lipstein; John P. Rathbone; Chip Angle; Mike Cannon;
Kenneth V. Cockrel Jr.; Matthew Cohen; David Ingemie;
Rue Mapp; Frank Mulvey; Charles N. Marshall;
Doug Monieson; Tim Noel; T. Rowe Price; Tom Petri
Laura Stark, Katie Harris
Rails-to-Trails Conservancy was incorporated in 1985 as a
nonprofit charitable organization under Section 501(c)(3) of the
Internal Revenue Code and is a publicly supported organization
as defined in Sections 170(b)(1)(A)(vi) and 509(a)(1). A copy
of the current financial statement, or annual report, and state
registration filed by RTC may be obtained by contacting RTC
at the address listed below. Donations to RTC are tax-deductible.
RAILS-TO-TRAILS CONSERVANCY
2121 Ward Court, NW, 5th Floor
Washington, DC 20037-1213
Field and Regional offices:
Rails to Trails
is a benefit of membership in Rails-to-Trails
Conservancy. Regular membership is $18 a year, $5 of which
supports the magazine. In addition to the magazine, members
receive discounts on RTC gifts and publications.
Rails to Trails
is published four times a year—three in print, one digital—
by RTC, a nonprofit charitable organization. Copyright 2015
Rails-to-Trails Conservancy. ISSN 1523-4126. Printed in U.S.A.
Rails to Trails
Ward Court, NW, 5th Floor, Washington, D.C. 20037-1213.
A Time to Make Our Voices Heard
The year ahead will be eventful. In 2015, we will mark the 50th anniversary of
America's first rail-trail, the Elroy-Sparta State Trail in Wisconsin. In the ensuing half-
century, our movement has exploded, now boasting more than 21,000 miles of rail-
trails used by tens of millions of Americans every year.
One action almost 25 years ago was crucial to this success. In 1991, the U.S.
Congress created federal programs that, for the first time, directed transportation
funding to trails, walking and biking. In the years that followed, this dedicated source
of federal funding was critical to meet a growing demand for trails in local communi-
ties. Amazingly, the 21,000 miles of rail-trails we have today were built with about
two cents out of every federal surface transportation dollar spent. Rarely has so little
created so much for so many.
Unfortunately, these crucial federal programs were cut by 30 per-
cent when the last federal transportation funding bill was passed in
2012—reducing funding to less than 1.5 cents of every transporta-
tion dollar. This law will come before Congress for renewal again in
2015, and we fully expect that some senators and representatives will
seek to further cut, or even eliminate, this essential federal support
To prepare for this battle, Rails-to-Trails Conservancy recently
commissioned a national poll to determine the opinions of
American voters on this issue. Seventy-four percent of respondents
supported maintaining or increasing trail funding. When asked
how they would distribute a hypothetical $100 among a variety of
transportation modes, the American people responded that $26.90
should be spent to "expand and improve walking and biking paths,
and sidewalks." That figure is 18 times higher than the current fed-
eral investment in trails, walking and biking. And what's even more
telling is the fact that every demographic and political subgroup
polled indicated their support for investment at least 10 times higher
These numbers demonstrate beyond any doubt that federal investment to create
safe places to walk and bike enjoys strong support across America—transcending age,
gender, political party or region. There is simply no constituency anywhere for reduc-
ing or eliminating these programs, and any member of Congress who supports such
cuts is seriously out of step with their constituents.
But having the American people on our side isn't enough. In the year ahead, we
will be asking you to raise your voice so Congress is fully aware of the breadth and
depth of America's support for increased investment in safe places to walk and bike.
With your continued support, we are confident that we will achieve our mission of
connecting America's people and places with a national network of trails.
Keith Laughlin, President
Rails-to-Trails Conservancy