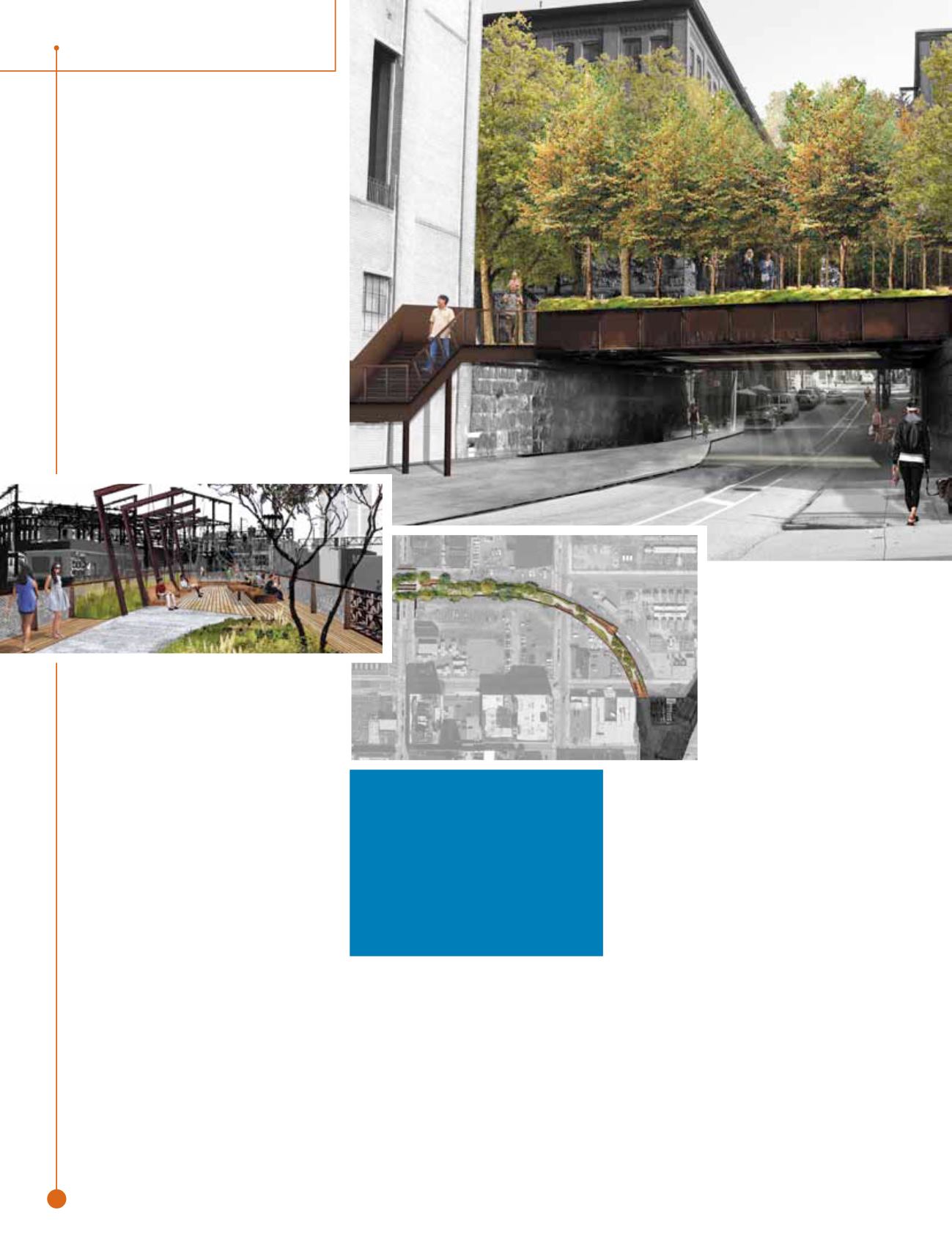 Trail under construction:
Avenue to 9th Street and Fairmount
Pennsylvania's Rail Park
"It's gigantic, bigger than the High
Line," says Paul Levy, president and
CEO of Center City District, comparing
Philadelphia's developing Rail Park proj-
ect to New York City's famed elevated
walkway. "But what was so interesting
to me was that although everyone was
inspired by the High Line, the notion
that emerged from the community was
that residents wanted something authen-
e lead designers for the rail-trail's
first phase have embraced this idea,
integrating unique elements into the
rail-trail's design to reflect its surround-
ings. When complete, the trail will
total three miles, anchored on the west
by Fairmount Park, which houses the
Philadelphia Museum of Art, the city's
renowned zoo, historic mansions, and
other museums and cultural treasures.
Bryan Hanes, a principal landscape
architect on the trail development team,
says the trail's quarter-mile first phase,
between 11th and 13th streets, "is in
the Callowhill neighborhood, which is
designated a National Historic District.
ere are old factories and warehouses
that have been converted into resi-
dential, office and business units, and
artist studios. We've incorporated the
characteristics and industrial aesthetic
that define that neighborhood into the
In keeping with the unrefined feeling
of the neighborhood (sometimes referred
to as the Loft District), Hanes says
the team developed a simple palette of
materials for the trail, such as the gravel
surface and a series of chunky trailside
seating platforms made of large timbers.
rough the yearlong design process,
involving significant input from the
community, the architects also learned
something else: e rail-trail would fill a
because residents are liv-
ing in old factory build-
ners added social seating
areas with porch swings to the design
as well as large-scale boxes filled with
native trees and plants. With a design
ready to implement, the trail now awaits
final funding. Construction of this first
section—on land owned by the public
transit agency SEPTA—is anticipated
to start in 2015 and finish within a year.
e segment will begin near Callowhill
and North Broad streets and continue
east along Callowhill to 11th Street,
where it will connect to the Reading
A relic of the now dormant
Philadelphia and Reading Railroad,
the viaduct will be the rail-trail's most
dramatic element. Spanning nearly a
mile in the heart of the city, the struc-
ture has long been eyed for public use;
to