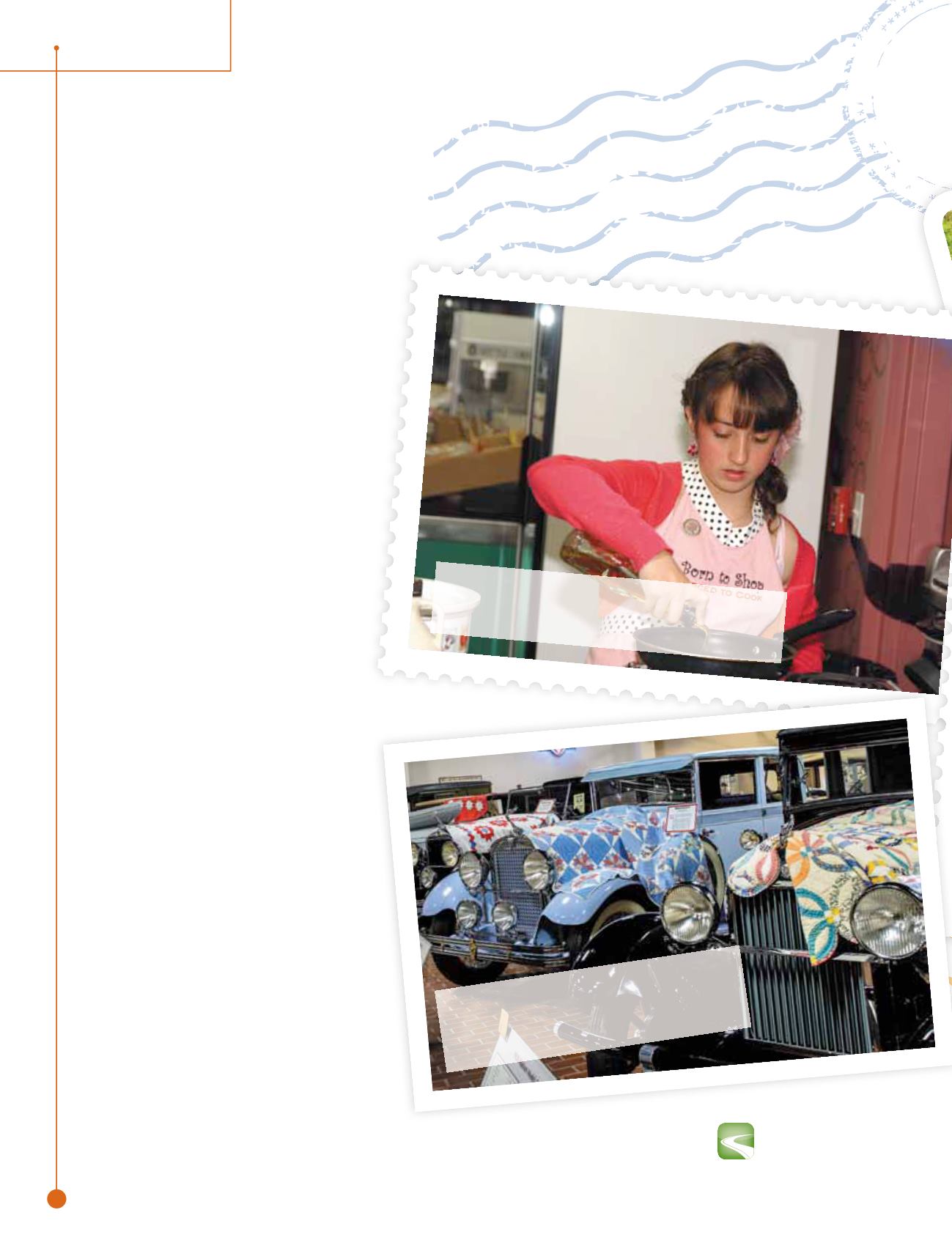 Pumpkinvine Nature Trail:
around the country will flood the small north-
ern Indiana town of Shipshewana for its annual
shipshewanaquiltfest.com
24–27. e event will feature a patchwork
of things to see and do, including quilting
workshops and lectures, book signings, special
exhibits and a vendor show. A "shop hop" offers
the chance to explore participating local fabric
and crafting stores, pick up free patterns and
recipes at each stop, and be entered to win prizes.
Afterward, festival-goers can unwind with a
walk down the Pumpkinvine Nature Trail, which
threads 17 miles through idyllic countryside,
woodlands and Amish communities.
17.6 miles; asphalt, crushed stone
North Fifth Street east of North Main
Street (Goshen) to County Road 850 north of County
pumpkinvine-nature-trail.aspx
Missisquoi Valley Rail-Trail:
vtmaplefestival.org
) is a sap-tacular three-day
event in St. Albans, a charming community not
far from the Canadian border. ose who want to
enjoy the gooey goodness of maple syrup should
plan to head there April 24–26. As one might
expect, pancake breakfasts are a draw, but you can
also try a plethora of other syrupy sweets, such as
maple cotton candy, maple creemees (like a creamy
cousin to ice cream) and maple sugar-on-snow.
Lots of other events and activities round out the
fun, including talent and variety shows, amuse-
ment park rides, cooking demonstrations, an
antique show, an exhibit hall with displays about
Vermont maple and maple products for sale, and
a parade. After the festival, feast your eyes on the
great views to be had from the Missisquoi Valley
Rail-Trail, which begins on the north end of St.
Albans and continues northeast through pictur-
esque farmland and woodlands for 26 miles.
26.1 miles; crushed stone
U.S. 7/Main Street at Rewes Drive (St. Albans)
to Troy Street/State Route 105 (Richford)
traillink.com/trail/missisquoi-valley-rail-trail.aspx
To learn more about these and other trails, check out TrailLink.com, a searchable database of more than 30,000 miles of trails nationwide.
The website and TrailLink apps include detailed trail descriptions, interactive maps, photographs and first-hand ratings and reviews.
By Rails-to-Trails Conservancy
COURTESY SHIPSHEWANA QUILT FESTIVAL
to