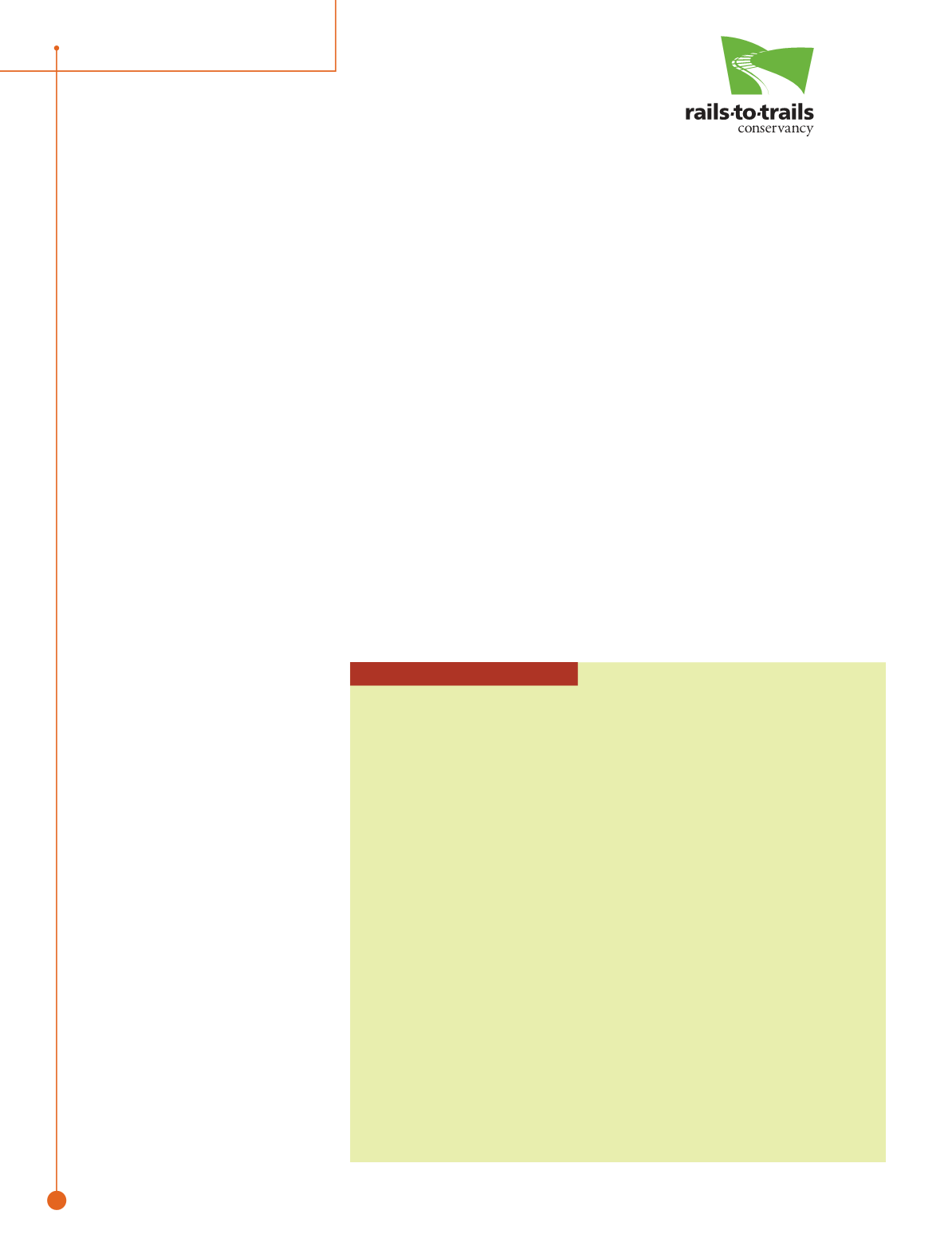 What We've Been Up To
In Spring 2014, RTC launched "
The
Florida Campaign
tive designed to push the needle toward
support for trails, biking and walking in
the Sunshine State. The campaign focused
on seven key actions, including the passing
FloridaWater, Land and Legacy
Conservation Amendment (Amendment
1)
in the state legislature—with the
amendment slated to provide as much as
$16 billion for conservation projects over
the next 20 years, including trails.
In a November 2014 vote, the ballot
passed overwhelmingly, with an impres-
sive 75 percent of voters supporting the
initiative. RTC gives special thanks to the
Health Foundation of South Florida for
the particularly strong support generated
Amendment 1 presents a great oppor-
tunity to connect Florida's springs to its
beaches and its open spaces to its urban
areas, from Pensacola to Key West. The
fight is not over, however, and Floridians'
continued involvement is critical to
ensuring that trails receive the necessary
resources to create a statewide trail system.
Stay tuned for future updates on how to
get involved. Contact: Ken Bryan, ken@
In July, RTC mobilized trail support-
ers in a campaign to railbank the
145-
mile Rock Island Line in Missouri
culminating in more than 12,500 indi-
viduals making their voices heard. The
massive groundswell of public support
was a success, and the owner, Ameren,
formally began the railbanking process
A Notice of Interim Trail
Use has been filed with the Surface
Transportation Board in Washington,
D.C.
RTC continues to work with
local trail groups as well as monitor the
railbanking process to ensure this cor-
ridor is preserved. Further RTC efforts
to strengthen local support and create
a statewide coalition for development
of the trail are on the horizon. Contact:
RTC is assisting the Santa Cruz
County Regional Transportation
Commission in developing an imple-
Monterey Bay
Sanctuary Scenic Trail Network
prominent regional trail network fea-
turing a 32-mile rail-with-trail along a
stretch of the Pacific coast. The trail will
ultimately link to another trail further
south in Monterey and promises to be a
major transportation route and attraction
for the area. RTC is supporting the effort
by identifying options for multi-agency
partnerships, strategies for utilizing
privately generated revenues to support
the trail, and best practices for utilizing
the trail corridor for multiple uses, such
as utility rights of way. Contact: Barry
RTC's Northeast Regional Office
recently wrapped up the data collec-
tion phase for its in-progress
Three
Rivers Heritage Trail User Survey
and Economic Impact Analysis
Poll Reveals Support for Federal Trail Role
In 2014, in a nationwide transportation poll, RTC engaged leading Republican
and Democratic pollsters to find out what likely 2016 voters thought about the
federal role in building and maintaining trails. On Dec. 8, the results of the poll,
which reached a representative sampling of Republican and Democratic voters,
were presented on Capitol Hill by Republican pollster Christine Matthews and
Democratic pollster Celinda Lake.
Results:
The poll found that four times as many voters favor increasing or
maintaining current levels of federal investment in walking and biking paths as
decreasing them (74 percent to 19 percent) and that strong majorities support
this funding regardless of political affiliation. Twice as many people indicated
they would be less likely (43 percent) than more likely (21 percent) to vote for a
candidate who wanted to fund only highways and roads and eliminate funding
for walking and biking infrastructure.When asked how they would apportion
$100 of transportation funding, respondents on average allocated $26.90 to
improve walking and biking paths and sidewalks, which is 18 times the actual
"There is no significant constituency for decreasing federal investment in bik-
ing and walking," states Kevin Mills, RTC's senior vice president of policy and
trail development."It is clear that across the political spectrum, American voters
expect robust investment in walking and biking as part of a balanced transporta-
tion system." Contact: Kevin Mills,
12th such report conducted by the
Northeast Regional Office. Ten pas-
sive infrared counters were placed along
segments of the 24-mile trail network,
which spans the banks of the Allegheny,
Monongahela and Ohio Rivers. To col-
lect data, paper survey forms were made
available at trailheads; additionally, an
online version of the survey was avail-
able via a QR code or a "take one" card
containing the survey URL. A total of
535 survey forms were completed during
the course of the study. Contact: Carl
RTC is working with the Chattanooga
Department of Transportation as well as
local trail advocates in Tennessee to com-
comprehensive assessment of
rail-trail and rail-with-trail opportuni-
ties in Hamilton County
will be provided to the city to supplement
a bicycle and pedestrian connectivity plan
released in 2014. Contact: Kelly Pack,
to